FREEDOM MEMORIAL PLAZA AT FLORIDA NATIONAL CEMETERY

Freedom Memorial Plaza is dedicated to Veterans from all of the United States War Eras. 
From the Revolutionary War through today's conflict, the men and women who served our country will be honored and remembered at Freedom Memorial Plaza. 
We hope you will join us by becoming a Sponsor or making a donation today.
Monument Development
Florida National Cemetery is the 2nd busiest National Cemetery in the United States.  It is currently developing plans for a 55-acre expansion to continue to provide a place for Veteran's to call home.  Florida National Cemetery is one of the few National Cemeteries without any significant monuments. We believe that the Veteran's who are laid to rest here deserve nothing but the best!  We want to honor the military men and women from all branches at Freedom Memorial Plaza and throughout Florida National Cemetery.  We are initiating fundraising efforts to enhance Florida National Cemetery with national monuments that represent the dignity, respect, and honor due to the deceased who are laid to rest here.

Freedom Memorial Plaza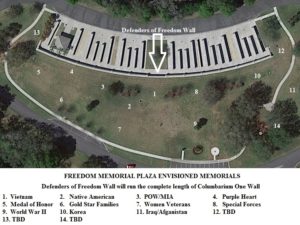 The Plaza will be the centerpiece of monument development with further expansion being planned in the future.  It will be located at the entrance to the cemetery and will honor and remember our Veteran's from all branches of the United States Military.
We plan to begin with the Defenders of Freedom Wall.  It will be located on the rear of Columbarium 1 and will be the backdrop of Freedom Memorial Plaza.
For more detailed information on the Monument Development plan, please download and review the presentation:  
If you would have any questions about the potential monuments, would like to make a suggestion, or make a donation to the plaza, please utilize the appropriate button below: