JOINT VETERANS SUPPORT COMMITTEE
OF FLORIDA NATIONAL CEMETERY
CALENDAR AND EVENTS
06 OCT
2021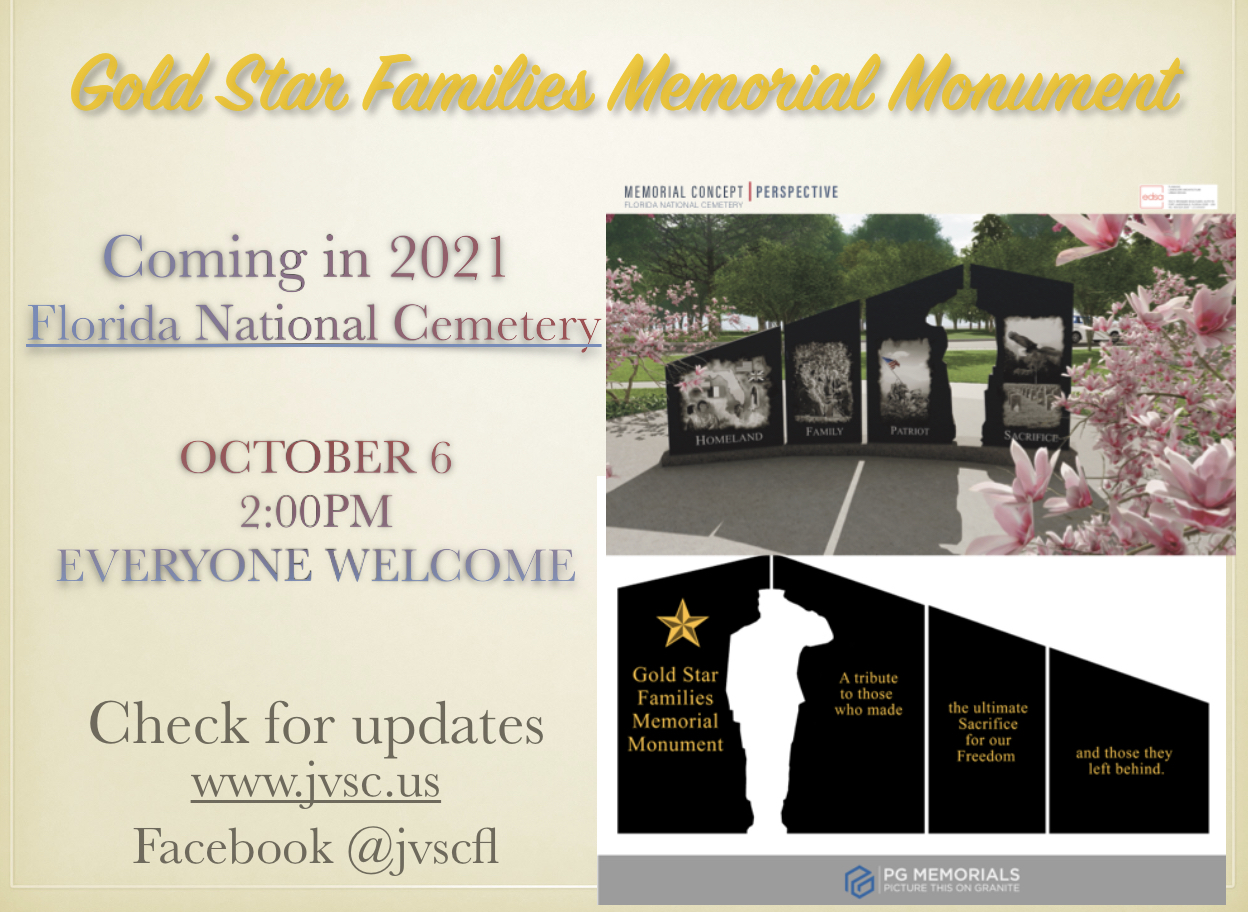 Gold Star Memorial
The Gold Star Families Monument dedication will be a free event.  To sign up for this free event, please click the link below:

11 nov
2021
Veteran's Day Ceremony
More information will be listed at a later date.

29 mar
2022
Vietnam War Veteran's Ceremony
More information will be listed at a later date.

29
may
2022
Flags for Fallen Veterans
Each Sunday before Memorial Day, Flags for Fallen Vets, Inc. will embark on a mission to Florida National Cemetery and place a flag on each Veteran's grave.  When each flag is set the Veteran's name is read out loud and thanked for their service to our country.  Flags must be placed 12 inches from the headstone and 4 inches in the ground.  If you'd like to more information on how to help us remember our veterans, please visit  http://www.flagsforfallenvets.com.
30 may
2022
Memorial Day
On the last Monday of May the nation honors and remembers the men and women who have served in the United States Military.  *THIS YEAR, DUE TO COVID-19, WE WILL AIR THE CEREMONY, VIRTUALLY.  THE CEREMONY WILL AIR ON THIS WEBSITE, FLAGS FOR FALLEN VETS FACEBOOK, FLORIDA NATIONAL CEMETERY FACEBOOK, AND JVSC FACEBOOK SITES. YOU MAY VIEW THE VIRTUAL CEREMONY BY CLICKING ON THE VIDEO ADJACENT TO THIS POST.